Philadelphia Hardscaping Services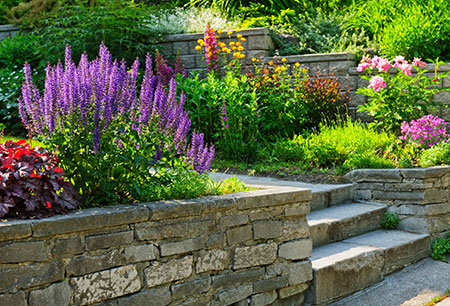 Hardscaping portions of your outdoor areas can add usable space and value to home or commercial property. Melady Landscaping's experienced masons can build walkways and steps to more elaborate projects like patios and retaining walls. Our old world craftsmen and years of experience makes Melady Landscaping the right choice for the discerning homeowner or property manager in Philadelphia, PA.
Philadelphia Walkways and Driveways
Instead of concrete, the use of paving stones, brick, and natural stone can enhance the natural beauty of the surrounding landscaping. In addition these materials can assist with rain water runoff and drainage. Depending on the situation and building constraints, these materials are compliant with municipal building codes when many other material may not be.
Philadelphia Retaining Walls and Steps
A beautiful set of steps or the perfect retaining wall levels the playing field between you and the landscape. Its not to often that the land our properties are built on is perfectly level. The use of paving stones for steps and retaining walls allows the homeowner or property manager to manage the landscape and not the other way around. Let your vision take shape by re-shaping the landscape around you.
Philadelphia Fire Pits and Fireplaces
There is no substitute for gathering around a fire with friends and family on those cool evenings. Around a hardscaped fireplace is were memories are shared and new ones are made. We can help you add a warmth and light to your outdoor seating area with a fire pit or outdoor fireplace.
Philadelphia Patios, Pergolas, Arbors, and Gazebos
This is were it all happens. You step outside and follow the winding walkway around back to the beautiful paving stone patio. From there you can see the well manicured lawn and colorful plantings. Just a few more steps from there and your in the gazebo with your favorite book and a nice glass of wine. When its time to create your own getaway let us help.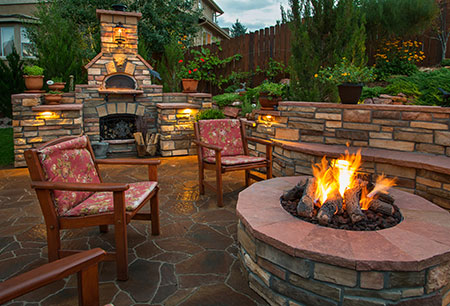 Why Choose Melady Hardscaping?
One of the advantages to using Melady Landscaping is our hardscape design service. We take detailed measurements during our pre-planning phase to guarantee that its done right the first time.
Philadelphia Hardscaping Services Include:
Philadelphia Walkways and Driveways
Philadelphia Retaining Walls and Steps
Philadelphia Fire Pits and Fireplaces
Philadelphia Outdoor Seating Areas
Philadelphia Patios, Pergolas, Arbors, and Gazebos
Philadelphia Outdoor Lighting
Philadelphia Ponds, Fountains, and Water Features
Philadelphia Fences and Fence Repair
Let Melady Landscaping build you the perfect outdoor living space. Contact us and we will be happy to assist you.